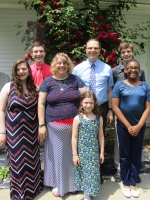 I, Pastor David Bowen, started as Lead Pastor at Hoopeston First Church of God in June of 2018. I graduated from Anderson University in 1995, and from Wesley Biblical Seminary in Jackson, Mississippi, in 2001. I have served in pastoral ministry since 1995, the first seven years as an associate pastor, then as a senior pastor at two different congregations before coming to Hoopeston.
I accepted the Lord's call to yield my life to Him at a young age, and a short time later God began to prepare my heart for a lifetime of serving others in full-time ministry. Being transformed by God is a step-by-step daily process. I can look back through my life and see the lessons He has taught me. When Hurricane Katrina devastated Gulfport, MS, in 2005, where I was serving as senior pastor, my ministry was revolutionized. I began to see that it wasn't enough to draw people in the four walls we called the church building, but we, as the church, needed to go out to minister to needs there.
I value truth rooted in the Word of God. I value entering the presence of God through worship and prayer. I value holiness, striving to be like Christ in all that I do so that I can say to others, "follow me as I follow Christ."
I also deeply value my family. My wife, has captured my heart, and we have been married over 22 years. We have 5 children: Brian and Jonathan (both attend Olivet Nazarene University), Abigail (high school), and Johanna and Emma (both elementary age).